Labs Life: Getting to Know Kellie Hodge
Welcome back to another exciting round of quickfire questions and astounding answers. Labs Life; where you get to take a peer behind the curtain at the inner workings of the Sutherland Labs, and more importantly, the people who make everything work! This time we have bribed our way into the office of Kellie Hodge in San Francisco, where we will find out everything there is not know about being a Principal Design Researcher.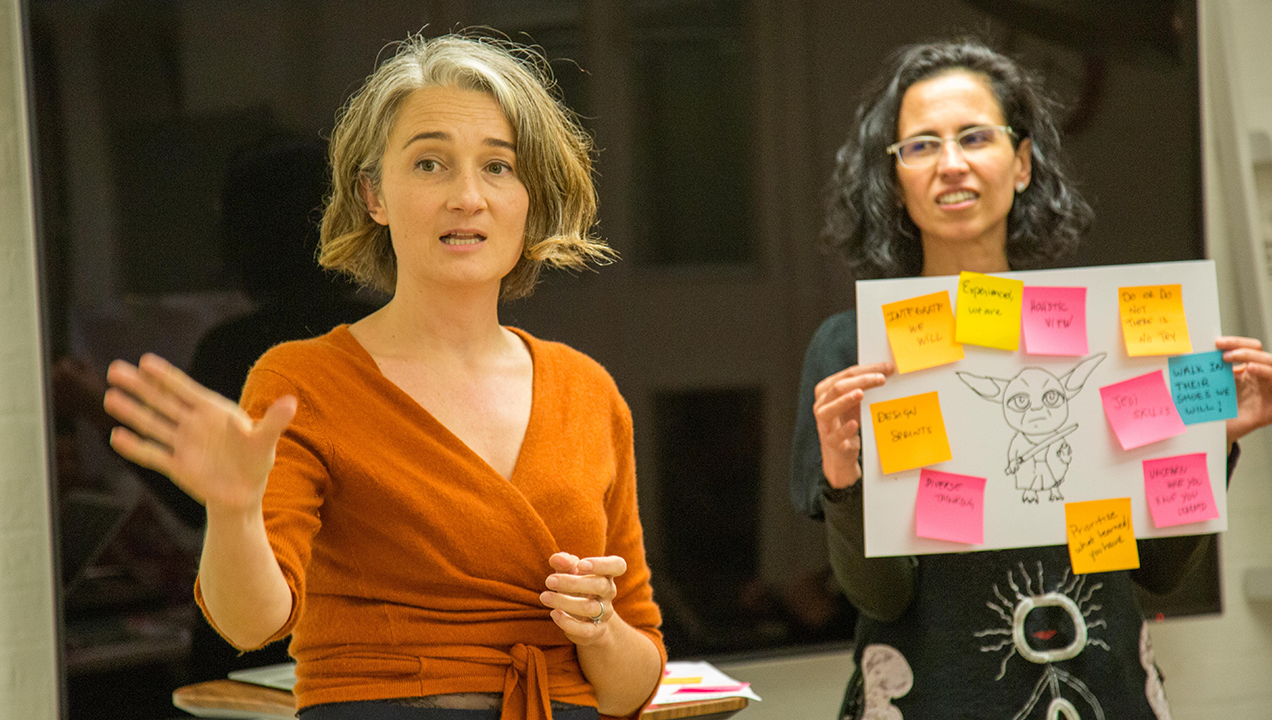 Explain your job to us like we are five-years-old
That's easy because I have a seven-year-old! I say that when Mummy is away on trips, she talks to all sorts of interesting people and learns how technology could help them. She was obviously impressed, because she wrote a nice note to Momma's work asking if we could make her a talking robot. 
I'm a working parent, so my day starts early. Before the lockdown, getting the little one off to school and commuting into the city involved a lot of caffeine and sometimes a tiny bit of shouting. Now caffeine and shouting is still involved but the distance covered is a little shorter. Time at work varies greatly: it can be heads-down writing, collaborating with colleagues on research design; the showmanship of facilitation; or being out in the field. Even during the pandemic, all these things still happen, but remotely. I'm grateful for the variety and flexibility I find at Sutherland – it's a great place to be a parent and do exciting work.
What do you do for fun?
We love California for its natural beauty, so you'll find us outdoors as much as possible. In the winter there's snowboarding in Tahoe. Sometimes we went up for the day and collected our daughter from school in our snow gear. Couldn't do that when we lived in East London!
What did you do before Sutherland?
The last few years have been pure design research. I've practiced in agencies, start-ups, and as a freelancer in the San Francisco Bay Area. Earlier in my career, I was more of a generalist, working in product, engineering and the kinds of all-the-hats roles you find in seed stage start-ups. But all those earlier roles involved a significant element of research – not necessarily as part of the job description, but because I don't know any other effective way to build systems for humans.  
I do think the diversity of my early career experience has been helpful. I was once the person who had to figure out what to use scarce developer time to build. You get such rich, often quite emotional insights from fieldwork but turning them into clear, practical recommendations for your stakeholders is a whole other skillset.
What do you think the future holds for the industry?
I see further acceleration of the trend towards research as an organizational learning experience. So, in turn I see more collaboration ahead; more active involvement of stakeholders; and more co-creation of research outputs. There will also need to be increased involvement from visual designers to perfect the art of making complex ideas easier to share and communicate.  
The influence of data science is an extremely powerful tool to surface behavioral patterns across large populations. This isn't going away, and sometimes there is an unhelpful tension between qualitative and quantitative disciplines. Of course, they both have great strengths, and I believe that smart teams will combine both disciplines.
Just how much shouting does it take to move a reluctant six-year old? Will Kellie get to snowboard around London?  Sign up to our newsletter to receive the next exciting episode of Labs Life!