This week we're delighted to feature a review of the UX Masterclass 2022 authored by Daniel Torres Burriel, founder of our Spanish partners Torresburriel Estudio. Experts in UX Strategy, User Research and UX Design, Torresburriel Estudio are long time member of the UXalliance – the global network for user research. Read the original post and many more topics here!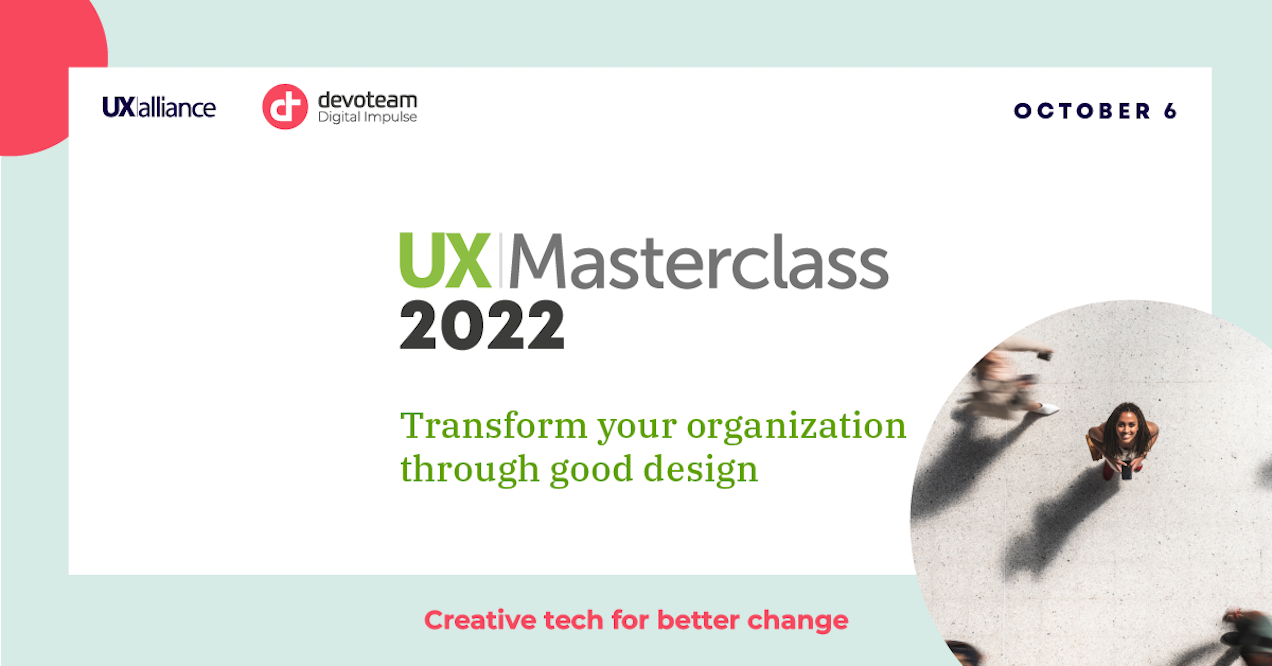 On October 6, the 19th edition of the UX Masterclass took place, the UX event promoted by the UXalliance, of which we have been a part since 2018.
This year the organizers have been our French Devoteam partners .
This year's theme has focused on transforming organizations through good design , and how a good people-centric approach can help transform businesses and respond to a rapidly changing marketplace.
During the event, there were two different paths:
The talks (in English), with a mixed format, both face-to-face and by live broadcast through LinkedIn Live and YouTube.
6 face-to-face workshops (in French).
You can see all the talks here:
The talks welcomed experts from 15 different countries, which were distributed as follows:
16 UX Alliance member speakers
6 French speakers (4 of them from Devoteam)
12 trainers for the workshops
What are we talking about in the UX Masterclass 2022?
Today many companies want to implement design processes to innovate and face the dizzying changes in the sector, but here the first problem begins. These companies, in some occasions, consider that the only thing that is needed to implement design processes is to hire a designer.
But design encompasses much more, and has a lot to do with the mindset of the entire company. The implementation of UX in companies implies a paradigm shift, because it changes the mindset of the entire company. In other words, good design can transform companies.
Sometimes it can be difficult to explain to stakeholders and senior management the true importance and positive impact of UX.
To try to be part of the solution, this year's UX Masterclass has focused on explaining how UX and design can help businesses, to cooperate in creating those much-needed arguments for stakeholders.
When we talk about design, there are five key moments:
Define the right strategy
Build a good organization
Deliver the right product
Push the product
Promote the vision of UX and demonstrate its value
One of the things that I liked the most about this year's UX Masterclass is that the talks were specifically focused on each of these design moments.
This is a small summary of some of the talks that I had the pleasure of seeing live during the intensive day of the UX Masterclass.
Increasing your Design Maturity: from baby steps to organizational strategy
With Wojciech Chojnacki, from Symetria and Florian Egger, from Telono 
In this talk they explained some practical tips to improve design maturity. We have to understand that UX is not the sole responsibility of the UX Design team, but that all members of the organization can contribute their grain of sand to the UX vision. Also, UX Design has great potential to improve business.
The dimensions of the Design Maturity Model are as follows:
Culture: Establish a user-centric vision throughout the organization.
Research: Continually search for data in order to focus on problems.
Metrics: Monitor performance and UX.
People: It focuses on all the skills and abilities of the people that are part of the organization, not just the design team. A crucial part is the collaboration between the different departments.
Design: Refers to the impact that design has on the product. You have to take into account the objectives and coordination.
Strategy: It is the long-term vision of the UX and the capabilities of the design team to be scalable.
In short, the Design Maturity Model helps to visualize where a company is and what features they need to improve to continue advancing, it is not just data. The most valuable thing about this information is that it is used to carry out actionable tasks that drive change.
How we taught design research to a global organization of non-designers
With Dr Mark Brady of Sutherland Labs.
One of the most complicated challenges that we who are dedicated to UX face is precisely to teach or evangelize on this topic to those who are not specifically dedicated to this. This is what Dr Mark Brady talked about, because Sutherland Labs has already faced that challenge (Sutherland Labs is owned by Sutherland, a company dedicated to digital transformation).
As always, the first step was to research and talk with employees and managers to fully understand what they needed and what their preferences were .
The key was to find a way of teaching that was scalable , high in workload and cost at first, but would work in the long run. Ultimately, this is what they learned during the process about what worked best:
Agenda by modules , so that each person can consume it at their own pace online.
Case studies in video format, with demonstrations and learning exercises.
Stories and experiences of specialists
Dr Mark Brady explained that after the launch of this training, in 12 months, they managed to change the vocabulary of the organization, and got new and better opportunities related to UX. In addition, despite not being compulsory, the course had a spectacular acceptance.
Of course, everything that can be achieved with a good training in UX is impressive.
Why Grand-Mère can't text: inclusivity and older adults
With Bold Insight's Bob Schumacher.
Bob argued that there is a cliché that older people can't use technology, but the problem isn't that they can't use technology itself, it's that they're being ignored when it comes to designing and researching to develop technology. digital product .
It is very important to understand that as we get older, sight and hearing deteriorate, as well as cognitive faculties, and even sensitivity (and this is a very important factor). (We have also talked about this: Designing for the elderly).
One of the biggest reasons why it is important to include older people in design is simply that the population is getting older. In addition, they are one of the generations with the most purchasing power (more than millennials, for example).
Entering the area that concerns us, this population (over 65 years of age) only receives 10% of the research budgets. And, in addition, they value usability above brands. So obviously there is a market to investigate for them.
Ultimately, including all age spectrums is a matter of inclusivity .
If you are interested in these talks you can see them in the video that I have included above.
Without a doubt, this year's UX Masterclass has been fantastic, and it is always a pleasure to be part of this initiative. (Last year we also participated, and here you can read our contribution: UX Masterclass 2021: the contribution of Torresburriel Estudio).
---
Originally published on 11 October 2022 by Torresburriel Estudio, and republished here with kind permission – thank you!