BBC World Service: Understanding User Needs in India
India is a place I keep coming back to. The combination of rapid change, an incredibly diverse population and a huge range of educational and life-experiences provides a fascinating set of design challenges.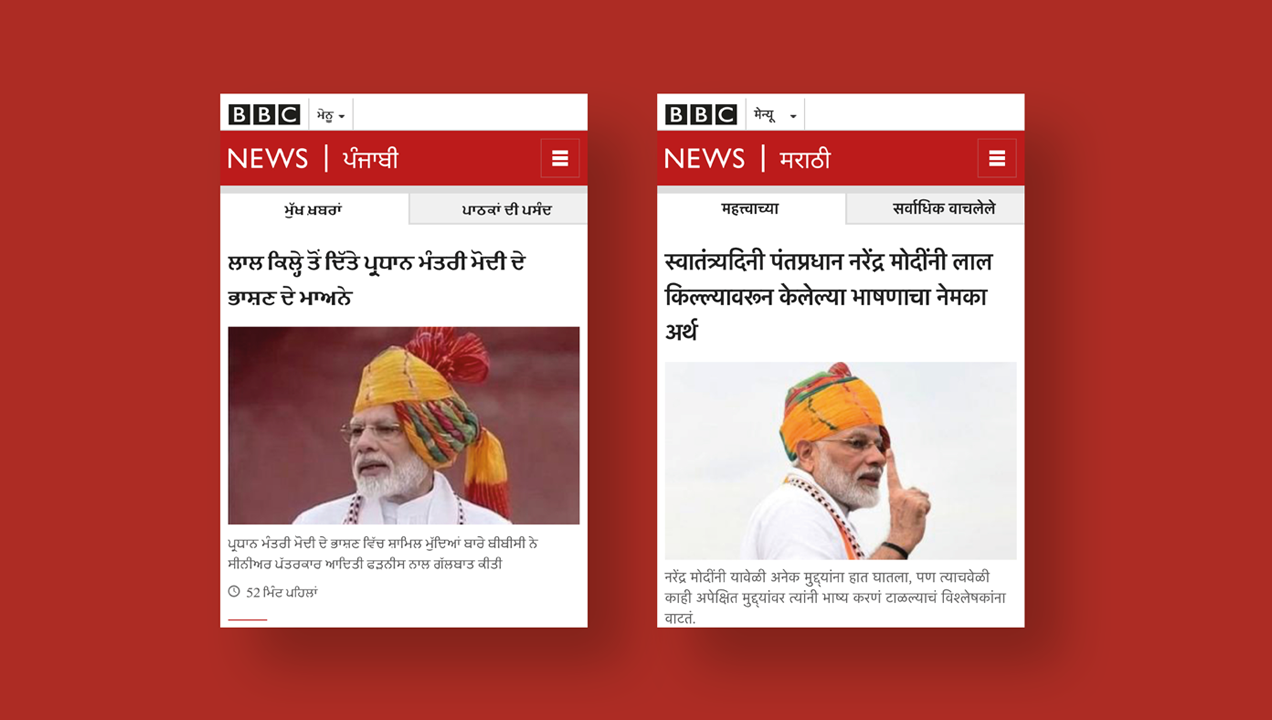 From a market perspective, the opportunities are also sizeable. Take the numbers: globally, India has the second-largest online population, and the second biggest smartphone market (both after China). While internet penetration is still low (1 in 4), the country is coming online rapidly. By 2020, it's estimated that more than 650 million Indians will be connected to the internet (that's double the population of the US).
And this isn't just something that's happening in major cities. Google's figures show that 2 out of 3 of web searches originate outside of the top 6 metros. Searches in local languages are not only up, but up by a factor of 10.
Multiple languages and standards of literacy present different design challenges to those I typically encounter in the UK. These jumped out in December when, as part of a BBC team, I visited Delhi and Mumbai to test the newly launched Marathi and Punjabi World Service websites.
By 2020, it's estimated that more than 650 million Indians will be connected to the internet (that's double the population of the US).
Working with our partners, PeepalDesign, we researched local news behavior – what drew readers in, what turned them off – digging into how they typically navigated news content. Our participants were multilingual, in English, Hindi, and Punjabi or Marathi. Interviews hopped between languages, as participants and our moderators code-switched depending on the topic being discussed. The number of languages and range in reading ability shaped how people interacted with our prototypes in interesting ways that we don't often see in the UK. So, I thought I'd share some headlines.
Don't make me type
Because people were working in a second or third language, reading and writing tended to be more error-prone and laborious, and therefore more painful. Typing a web address and creating a login to read an article was an even more pronounced barrier to entry than usual, so apps, social media login and short form content were all markedly more popular.
Make it visual
Users were also much more drawn to images than text. This is something we see in the UK too, but it manifested more strongly in Delhi and Mumbai. Our users were led by images when navigating, and often preferred scrolling photographs to reading headlines, particularly if the content leant itself to imagery, for instance topics such as the recent celebrity weddings.
Help me stay in touch with my home
In Delhi, we spoke to a number of young, second-generation Punjabis who spoke Punjabi at home but were schooled in Hindi or English. Living in Delhi with their parents, they read the news in Punjabi to help improve their skills. They appreciated the simple language used on the BBC Punjabi website, but they often asked for an in-page dictionary to support them.
Reading Punjabi news was also an important way in which Punjabis based in Delhi stayed connected with their homeland, and with friends and family living there. Our participants kept a close eye on the Punjabi news in case they needed to warn their friends and family about anything happening back home that might affect their safety.
What's next?
We're continuing to work with the BBC to test new concepts for the World Service, this time in Indonesia! We're excited to see how all the findings from research throughout the world come together, and how they will shape the new website design.
Read more about this, and other BBC research projects on the BBC GEL website.