The wrong airport, Fruit salad UX, and a design sprint – our first UXPM taster event
On Tuesday 15th we held an evening of wine, cheese and UX, a taster event (quite literally) that previewed our UX Alliance UXPM-1 certification course in September. With cheese and charcuterie supplied by London's Paxton & Whitfield, plus a selection of wines, the evening got off to a great start for the diverse audience wanting to get a taste of what design thinking is all about.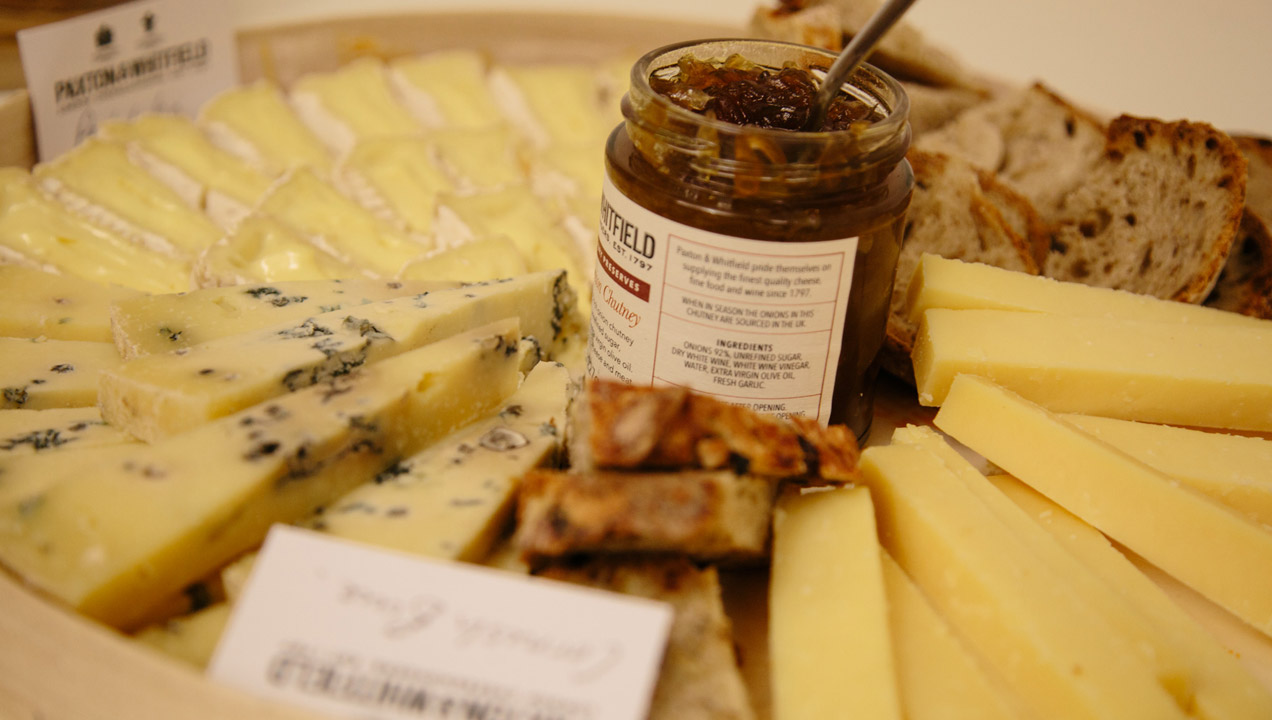 Great landing, wrong airport.
The training part of the evening kicked off with our Director of Design Research, Andy Swartz, talking about his thirty-year career in UX, and how it all got started.
"I was lucky, I joined Apple back in the '80s, straight out of college. We were working on how to improve the user manuals. We had all kinds of ideas to use cut-out thumb indexes, colour coding, glossy paper and card. All kinds of stuff. Then the unthinkable happened. We booked a whole bunch of home visits with Apple users, took them through our research protocols and asked them about how they used their manuals. And guess what happened? Yeah. None of them had manuals. Most threw them away with the packaging, and the ones who had kept the packaging had left the manuals still in the shrink wrap. And we realised, making better manuals was pointless, we needed to make more user friendly software and get rid of manuals because, through user research, we realised nobody looked at them anyway."
This is an example of what Andy calls the "Great landing, wrong airport" problem. It's one of the typical UX issues the Lab's teams encounter. The problem is surprisingly common: Without UX research, there's a risk you'll develop a product or service that doesn't get used, no matter how well designed it is. Other typical issues are problems like 'Brilliant siloes, bad gaps' where you have divisions within a product team who are great at what they do, but there's a lack of integration between them, which allows product flaws to go unnoticed. And the common research mistake of using too narrow a definition of customer experience, where apps might pass user testing, but the journey to using the app, or the next steps after a user has finished using it, diminish its value.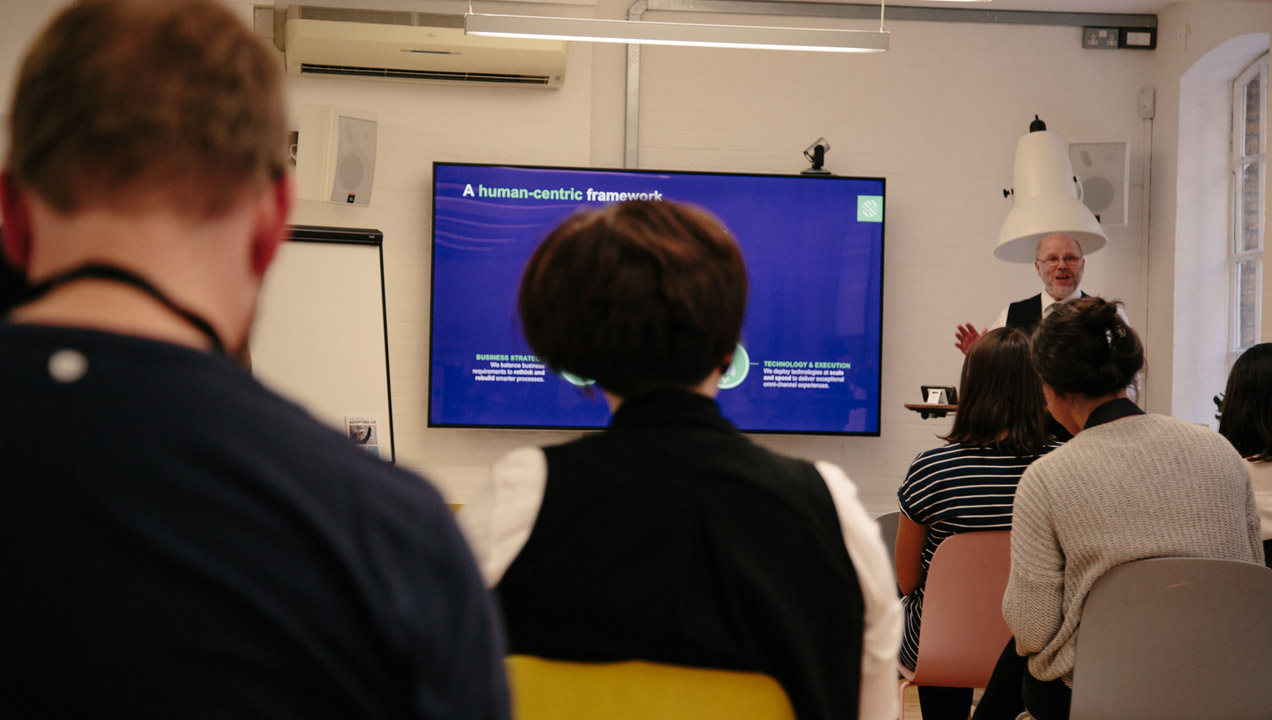 "Another common problem is tech that's too early. Anyone remember the QuickTake 150? No. A digital camera that was just too early for the market. It's another example of how without proper research, products can fail despite great tech. That's why about half the work this lab does takes place in the field, not in this building. You've got to study the real world to get real world insights."
Fruit salad on a train, a live UX experiment.
Sutherland Labs Principal Design Researcher, Anna Haywood, joined Andy to demonstrate why live research is so important to UX. Referencing legendary cultural anthropologist Margaret Mead's quote "What people say, what they do, and what they say they do are very different things" Anna performed a live experiment with the labs Creative Director, Anton Artemenkov.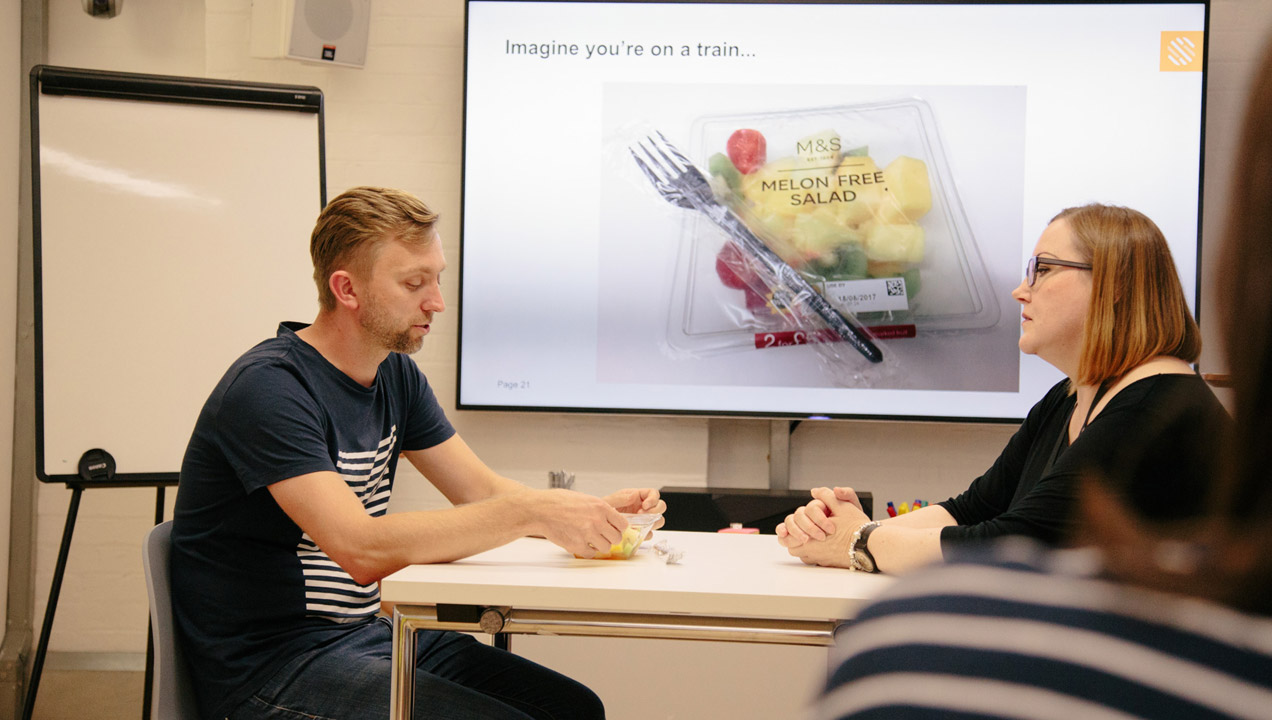 Anton likes fruit salad. He usually buys it at the station and eats it on the train on his way into work. Anna took him through a set of questions, where Anton didn't mention any pain points in his customer journey. Then Anna got him to eat a fruit salad (melon free, he's not a fan of melon), and while he was chomping away asked what else he did on the train while he was eating it, "I use the phone, check mails, make calls, like everyone else." Anna asked him to show us… and that's when Anton realised that his sticky fruit salad hands were a downside of eating fruit salad on a train. "I need a napkin, that's always a bit of a problem because I often forget to take one when I buy my salad." Anna then brought that finding into the context of UX research:
"So there's a clear difference between the way Anton talked about the product, and observing him use it, in terms of pain points on the customer journey. It also shows that research subjects don't always recognise they've got a problem, they just work around it. Saying, doing and talking about experiences always vary, and it's only by studying all three that you uncover the real user experience. And in this case, the salad needs a napkin bundled with the pack, not in a pile by the checkout where people forget to take them."
The live sprint
The night's training sessions ended with Anna and Andy handing out packs of post-it notes (the engine of UX research) and showing the audience a video of a 'service safari' where Sutherland staff had gone through a typical user journey from discovery to (nearly) purchasing a product (in this case, a famous car brand). We split into teams and watched the video, noting down observations and pain points in the customer journey, and then (with help from Anna and Andy), we assembled a customer journey map of the car buying experience.What was remarkable about this exercise was how quickly the teams bonded, and aligned around the same kinds of user issues. Then Anna took us through the map and there followed a lively discussion about how to improve it. Andy then closed the session by observing the effects the live research had on the audience.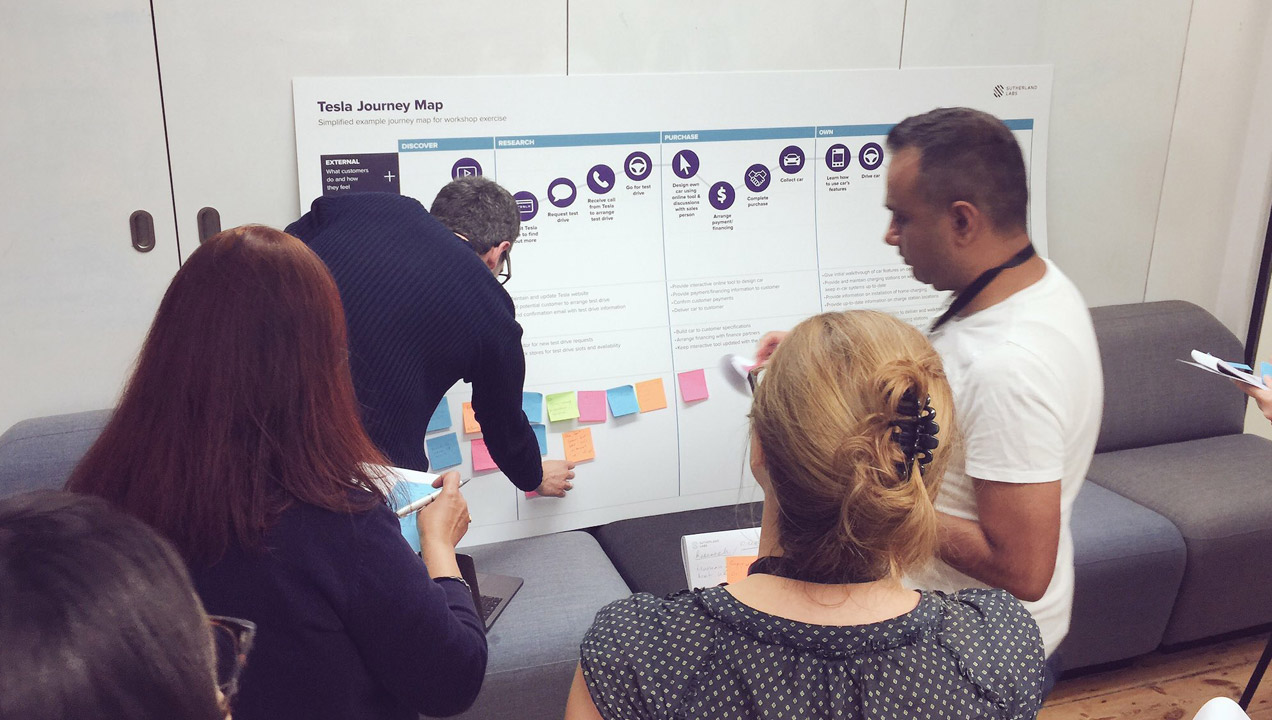 "What's great about this kind of exercise is, it's not a very scientific form of research, but it's amazing how quickly it builds a team and gets everyone focusing on the main UX issues. You've all gone from learning about the research to actually doing it in a couple of hours, and that's a great result."
Back to the cheese…
After a number of the attendees signed-up for the UX PM certification course, we headed back down to polish off the rest of the cheese and wine. Everyone noted how the concept of UX research was surprisingly practical and accessible, and even more surprisingly, a lot of fun. The night was a great success and we'll certainly be holding more free events in the future as our UX Alliance courses continue, if you'd like to come along and see what we do in the labs, mail victoria@sutherlandlabs and we'll put you down for the next one.
In the meantime, improve your user journey through remembering to take a napkin, keep some post-it notes handy to spot the pain points you encounter in your customer experience, and always make sure you land at the right airport.