NRF17: Trends from Retail's Big Show
Overall
The consensus is that 2016 wasn't the most exciting year in retail — more a continuation of trends than a time of revolution. We asked almost every visitor to our stand, from representatives of major retailers to leading analysts, what booth or talk they saw that surprised or energized them, and to a person, almost everyone said that there was nothing outstanding this year.
That's not to say there's not a lot going on. Most of the energy in retail is around digital transformation rather than bricks-and-mortar, but there's news and interest in both.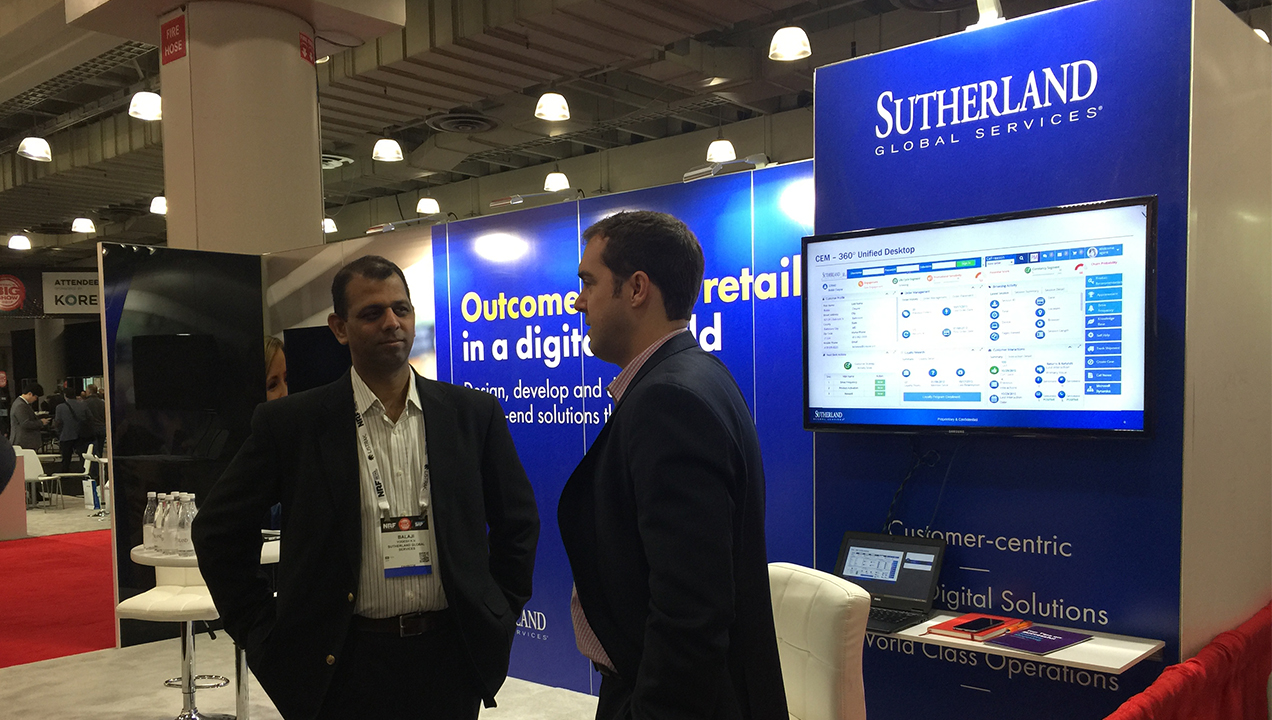 Digital retail
Here's what we saw on the digital side:
There's a huge desire to bring boutique customer experience to mass audiences
The power of AI means that tools can make every stage of the customer's relationship with a retailer feel more personal and relevant. During shopping, curated product suggestions can be built from a customer's prior visits online and offline. Delivery can be monitored and problems proactively addressed. And if there are problems with products or services, chatbots and intelligent analysis can help resolve issues and make amends.
To support those goals, we saw ever-widening initiatives to capture consumer data and tie it together regardless of channel. As always, retailers are collecting data based on purchases online and offline combined with rewards card information. They are supporting this with free in-store Wi-Fi that is used to track consumer pathways through the shop and that can be connected with purchases and items picked up off the shelf but not purchased. Some retailers are using beacons as well. Cash registers, vending machines, and kiosks in the shop are incorporating facial recognition that can analyze passing traffic based on rough demographics (age/gender), and some of the vending machines can message their owners to say when the audience isn't matching the product profile and the machine should be moved. Kiosks are making offers based on the type of consumer, maybe with an eye toward recognizing individual consumers.
B2B2C
We saw many organizations selling cloud-based platforms that help businesses large and small with their digital transformation projects. Large businesses are not looking to invent their critical systems on their own; and small businesses have access to systems that have traditionally only been available to the big players.
Security is big
Although consumers rarely think much about security when shopping online, retailers realize that security breach stories can hound them should they occur. We saw a lot of exhibitors selling ways of stopping online security breaches, as well as to prevent attacks that could disrupt their online services.
Artificial reality is still trying to get traction
Most of the demos we saw were not yet convincing, just more difficult ways of interacting with an online store than an app would offer, while requiring uncomfortable glasses or holding tablets at odd angles. We're not dismissing the idea, but we have yet to see a killer retail application. One potential area of strength is to provide an environment where consumers can get excited pre-sales about a product or service thanks to a more immersive display, either online or in store.
Bricks-and-mortar retail
Here's what caught our eye on the bricks-and-mortar side:
Going mobile in-store so that retail staff can move away from the cash register counter
Lots of booths were pushing mobile POS terminals, as well as tablets that salespeople could take with them around the store (like in an Apple Store). At the moment the tablets are designed to help salespeople get information quickly on products. Picture a camera aisle at a big box store where a salesperson could look up specs for an interested customer. In the future, we can envision a tool that could allow a salesperson to get information on a shopper as well, to provide them with curated recommendations, suggestions on how they could use their reward points, and information about special status (high spender, frequent visitor).  The trick will be to keep the information so that the treatment is personal and not just creepy or pushy.
The shape of cash registers and tills is changing
This won't surprise anyone who's been into stores recently, but the size and shop of POS terminals is evolving. They are becoming smaller, and often take the shape of a tablet with a cash drawer and card reader attached.
Humanoid robot helpers that can charm and assist shoppers
While a number of stands were showing them off, they feel more like fads than real help at the moment, but it should be fun to wait and see.
Wow there were a lot of…
Whenever we go to a large show, there's always something that catches your eye as being repeated more than you would have guessed. This year at NRF the surprise repeats were:
At least half a dozen stands selling mobile printers for labels and receipts
An individual stand might have a dozen or more form factors. Predictions are generally for receipts to go more online, so it's unclear whether this is a real trend, or a last gasp.
Customized clothing knitting and sewing machines
We can see customized clothing becoming popular, and it looks like a lot of organizations are trying to solve this problem with new automated machines and services to help customers order everything from custom-colored socks to right-sized shoes.
Buzzwords
We like to listen out for the terminology used. Here's a couple of things we noticed:
"Digital transformation" is being used everywhere now, and is very much on the minds of the organizations servicing the retail industry.
"Omni-channel" is still in wide use, but some people are distancing themselves from the term to make the point that it's all just one interchangeable channel now, that people don't even think about the fact that they are moving between a mobile app, a website on their PC, a phone call, and a visit to a main street shop.
Innovation Labs
The NRF has an area devoted to new technologies. Among the things that caught our attention there:
Wearable payment technologies
Like a contactless payment card in the shape of a ring or a bracelet. Good for the beach or a concert. The kids in my family might like them, and if they had some sort of payment limits or other controls, so might their parents.
New outdoor signage technology that uses inks instead of diodes
Clever use of rubber bladders that release the ink in each large pixel in response to electric charges. Bright colors in bright daylight.
Bus shelter signs that you can log into via Bluetooth or Wi-Fi and play a game on
We'll be curious if this gets wide use — very public technologies that you stand in front while using often give people performance anxiety.